Tokyo-based Preferred Networks, Inc. has grown quite a lot since its inception in 2014. The software development company focused on machine learning and deep learning is one of the most famous AI startups in Japan that captured the attention of some of the biggest names in the country (and in the world), Toyota Motor Corp. and Fanuc Corp., the world's leading supplier of robotics and factory automation.
The rising AI startup is one of the award winners at ICRA (International Conference on Robotics and Automation) 2018, which is one of the top conferences in robotics organized by IEEE (Institute of Electrical and Electronics Engineers).
Preferred Networks won the Best Paper Award on HRI (Human-Robot Interaction) for their incredibly interesting and insightful paper titled "Interactively Picking Real-World Objects with Unconstrained Spoken Language Instructions", which shows how object bounding box prediction methods can be combined with NLP (Natural Language Processing) technologies into a single framework.
The AI Startup's Business Domains
Preferred Networks, Inc. is collaborating with organisations in transportation, manufacturing and bio/healthcare. It has been working with Toyota since October 2014 in the field of research and development of technologies related to connected cars and autonomous driving.
Since June 2015, the company has been working with Fanuc Corp. and, since December 2017, it has been collaborating with the multinational conglomerate company Hitachi, Ltd. These collaborations are focused on PFN (Preferred Networks) conducting research and development of object recognition, anomaly detection, control and optimization technology, as well as on applying machine learning and deep learning to robotics and machine tools.
PFN has also started working with the National Cancer Center of Japan to help develop systems for early diagnosis of cancer by analyzing MRI and CT scans and using blood samples.
Since June 2015, the company has been working with Fanuc Corp. and, since December 2017, it has been collaborating with the multinational conglomerate company Hitachi, Ltd.
Preferred Network Reaches $2 Billion in Venture Capital Funding
Founded in March 2014 by two computer scientists, Toru Nishikawa and Daisuke Okanohara, Preferred Networks, Inc. almost instantly set itself apart from other startups focused on AI and deep learning because of the huge investors that granted it access to the rarest data on the planet. In order for deep learning algorithms to provide results and help come up with the best solutions to various problems, they need data, and Toyota and Fanuc provided PFN with an exceptional opportunity to analyze theirs.
Due to the company's remarkable deep learning systems built with intelligence and insight, Preferred Networks' ventures are extremely promising. This is something that attracted its big investors and collaborators and helped it get a venture capital funding of more than $2 billion, making it the most valuable AI startup in Japan.
One of the first people to back the Japanese startup was Yoshiharu Inaba, the CEO of Fanuc Corporation. He met with the two founders and was immediately intrigued by their vision, supporting it with a $9 million investment and starting a collaboration for optimizing industrial production through analytics.
Soon after, the deep learning startup secured $10 million from Toyota and, just like with Fanuc Corporation, became their outsourced partner in AI research and development. PFN raised roughly $95 million from Toyota for self-driving tech in August 2017 (¥10.5 billion), and several more investors followed four months later – a manufacturing company Hitachi, Ltd., a banking holding company Mizuho Financial Group, Inc. (MHFG) and a trading company Mitsui & Co., Ltd.
Demonstrating the Innovative AI Technology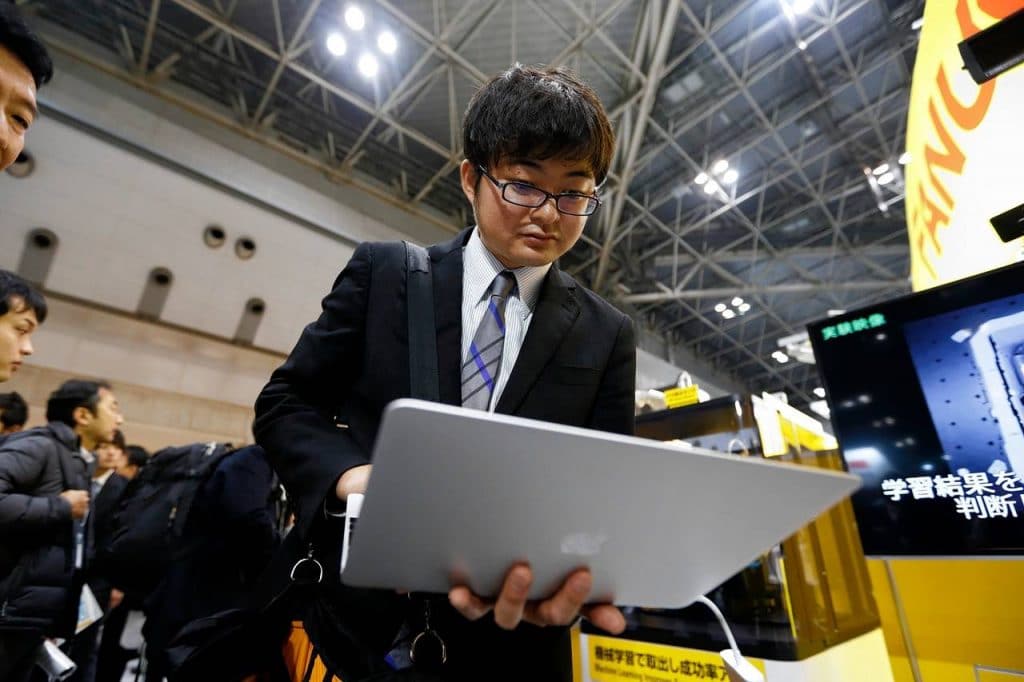 Nishikawa and Okanohara demonstrated what their new AI technology can do at International CES (Consumer Electronics Show) 2016 in Las Vegas, showing how deep learning can be used to create a system that automatically learns driving skills.
Eight model Toyota Prius cars, not equipped with sensors nor programmed with any written instructions on driving, were placed on an obstacle course. The system was only fed route data, and cameras that were placed up high to take images of the cars sent the images to each car's learning unit so that the vehicles could acquire proper driving skills from their own experience and learn to travel smoothly.
At first, the model cars kept colliding but, after two hours of trial and error, when each vehicle was given a penalty for crashing into an obstacle, they started driving smoothly as if they have been previously programmed to do so or as if professionals were actually controlling them. They successfully learned from their experience and, thus, reached autonomous driving using deep learning.
Toyota saw the huge opportunity of this object-recognition technology and analysis technology of vehicle information, as it is something that can greatly help the company step forward into the next-gen mobility society, which is precisely why it funded Preferred Networks that now passionately works on improving the computational environment.
A few months after the CES 2016 deep learning demo, the founders of Preferred Networks demonstrated how their innovative deep learning technology can be used to teach factory robots to think. They used a Fanuc's bin-picking robot to show how they could be transformed into skilled factory workers, programming it to pick certain items out of messy bins.
The demo showed that a robot can, with the help of deep learning algorithms, quickly teach itself how to do various tasks (in a matter of several hours). Preferred Networks showed that robots can complete tasks that might take real engineers more than a couple of days to finish.
Fanuc's CEO, Yoshiharu Inaba, said on the matter: "It takes 10 years to train a skilled machinist, and that knowledge can't just be downloaded to another person. But once you have a robot expert, you can multiply it infinitely".
One of the founders of Preferred Networks, Daisuke Okanohara, said: "If you're not doing something that seems crazy to some people, you'll never do anything interesting". Never has anyone been so right.
If you have an idea for a startup and you think that many people might consider it crazy, it means you're probably on the right path. You're doing something different and being unique is exactly what pays off. If your idea is plausible and opens the door to a whole new world of possibilities, you're not being crazy – you're being bold, and that's one of the most important traits of every successful entrepreneur.